CircusWest Fairytale Getaway Raffle 
CircusWest Performing Arts Society is excited to announce the
CIRCUSWEST FAIRYTALE GETAWAY RAFFLE
BC Gaming Event License #128223
The CircusWest Performing Arts Society is happy to announce a Spring Draw to help raise funds for CircusWest Programming and escalating COVID costs. The CIRCUSWEST FAIRYTALE GETAWAY RAFFLE offers a glimmer of HOPE during these challenging times where one can dream of TRAVEL, WINE and two days of sampling BC's FINEST WINE. There is LIGHT at the END OF THE TUNNEL and it could be filled with Wine — if you enter our RAFFLE!
Make this FAIRYTALE come TRUE!
FLIGHT FOR TWO to the Okanagan Wine Country
TWO NIGHT Accommodation @ Sparkling Hills Resort & Spa
WINE SHUTTLE and WINE TOURS in Kelowna's Okanagan Wine Country 
Select Gourmet Meals @ Sparkling Hills Resort
To purchase tickets, select BUY TICKETS on this page & you will be directed to our CIRCUSWEST FAIRYTALE GETAWAY RAFFLE website.
Once tickets are purchased, we will fill in an OFFICIAL HARD COPY RAFFLE TICKET for you with your information and send you a DIGITAL PHOTOGRAPHIC PROOF of your PURCHASE & RAFFLE TICKET NUMBER.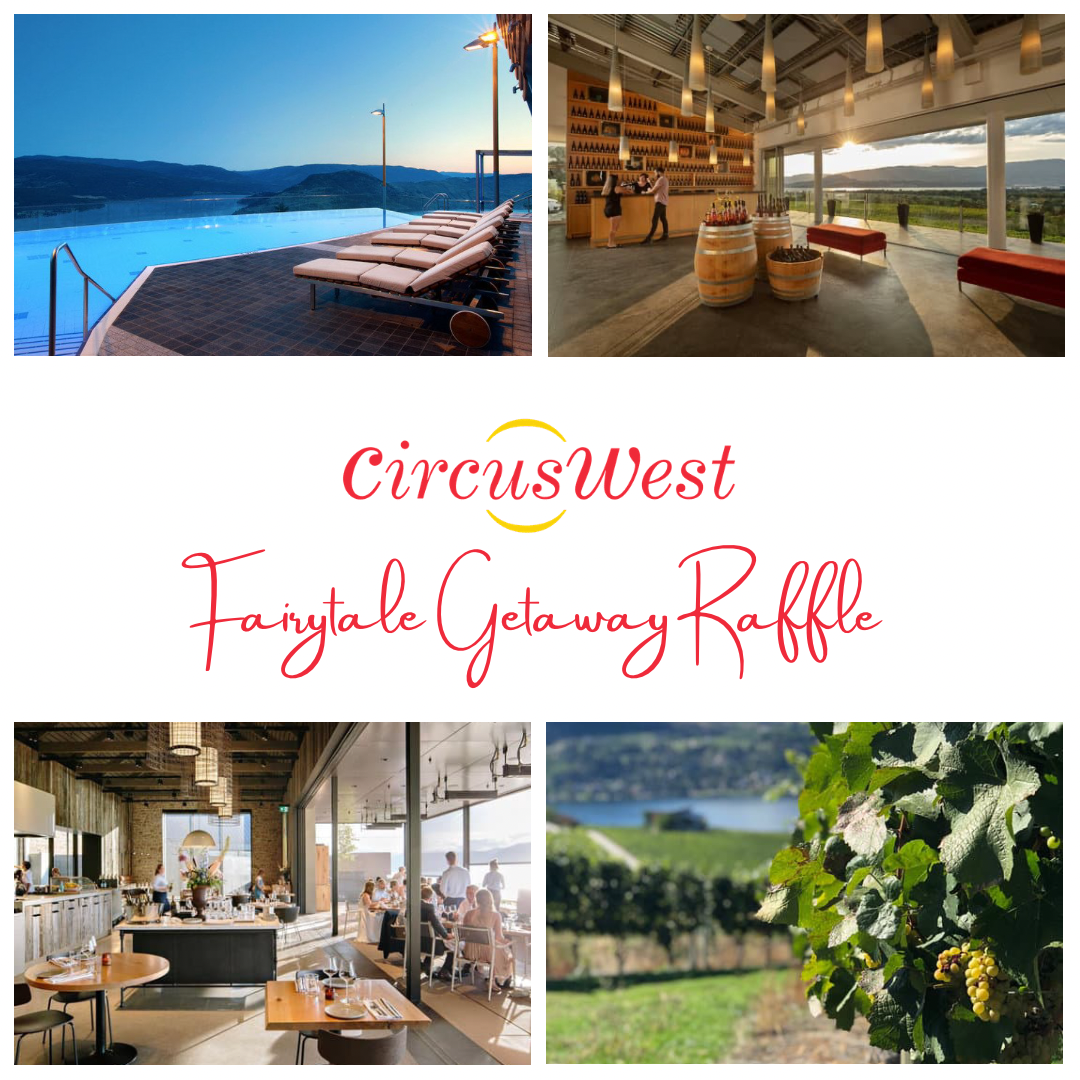 Raffle Rules & Information
How to Purchase Tickets
Purchase using the link above & below & be directed to the Fairytale Getaway Raffle website.
Once order is received, we will apply information to a hard copy raffle ticket(s) & send you DIGITAL PHOTOGRAPHIC PROOF of your purchase and raffle ticket number(s).
Purchase in person from CircusWest students & staff who will be given books to sell.
Who can purchase tickets:
Ticket purchasers must be 19 years of age or older. (If a winning ticket bears a minor's name, the prize will be lawfully delivered on behalf of the minor to the minor's parent, legal guardian or trustee)
Must be a resident of British Columbia, and/or the ticket buyer must be located in British Columbia at the time of ticket purchase
Prize can be redeemed until August 31st, 2022.
Ticket Details
Tickets will be sold at a cost of $15.00 per ticket. There is no maximum to the number of tickets an individual may purchase. 1,300 tickets are available.
Prize = A trip for two to Okanagan Wine Country with Accommodations at Sparkling Hill Resort & Spa complete with Wine Tours and Shuttle. Valued at $1,800.
The draw will take place at the the PNE GARDEN AUDITORIUM on June 30th, 2021 @ 5:00PM.
The Winner will be contacted by telephone on the day of the draw. The names of the Winner will also be posted on CircusWest's  Website, Instagram and Facebook page.
Please email jnunns@circuswest.com if you need additional information.
Chances are 1 in 1,300 (total tickets for sale) to win the GRAND PRIZE.
Prize is NON REDEEMABLE for cash or credit
Prize Winner has until August 31st, 2022 to redeem prize
Cannot be redeemed during high season, Christmas, New Years or Easter 2022.
Problem Gambling Help Line 1-888-765-6111
www.bcresponsiblegambling.ca
Know your limit, play within it. 19+