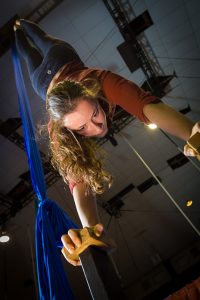 CircusWest doesn't stop for the summer. In fact, we get more intense. This July, we're offering Summer Intensives, focused movement and circus training for people 12-45 years old with prior circus experience. These week-long intensives are intended for intermediate or advanced students of circus or gymnastics, or dancers seeking new skills in their training. With a focus on technique, alignment, core stability and movement training, we allow students to focus on one particular skill (such as aerials, tumbling, trampoline or handstands) while also receiving training in a secondary area.
Please note, registrants will be asked to submit a short bio detailing their previous circus/gymnastic experience and training.
The intensives are being led by former Cirque du Soleil performer, and our very own Performance Program Coordinator, Jonel Earl. She'll be bringing in special guest instructors throughout to assist with particular circus skills. Here's what she has to say about the Intensives:
"Our coaches will be offering instruction in aerials, tumbling, trampoline, Chinese pole, juggling and dance. As well, there will be daily strength and flexibility conditioning. We do our best to offer a positive, open and safe environment as we feel it is the most efficient way to create, play and learn. There are limited spaces left – hope to see you there!"
On that note: last year, many of intensives sold out. This year, why not get signed up before that can happen? There are still spots available in every intensive as of the posting of this blog – but circus moves fast, so check out www.circuswest.com now to register!
Ages: 12-45
Cost: $300
Location and Times: PNE, from 5:00 – 9:00pm
Dates: July 3 – 7 (Summer Intensive I)
July 10 – 14 (Summer Intensive II)
July 17 – 21 (Summer Intensive III)
July 24 – 28 (Summer Intensive IV)