It's a big wide circus world out there, and really, all a circus school can do is teach its students well, open its doors and let them fly. And sometimes, when we're lucky and tour dates line up, they fly home for a visit. Like Ben Courtenay. Now a principal aerialist in Cirque Du Soleil's Luzia, Ben started his circus career as a CircusWest student.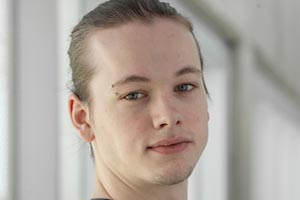 Ben trained for years in our intensive CirKid program, ending up in the Performance Troupe. Among his May show roles, he played the lead role of the Wolf in our 2011 production Journey to Lost Lagoon. He came to us after practicing gymnastics for several years: there was something about the creativity and play of circus that appealed to him. True, his gangly early years often echoed with phrases like point your toes!…but once he grew into his own, his movements became increasingly graceful and poetic. Soon, he found his niche here. "Here" meaning, in this case, "up in the air".
CircusWest annually hosts the National Circus School auditions. In Ben's year, his training and our prep got him through the auditions successfully—straight into the world-renowned Montreal circus arts school. And, four years later, his dedication and training got him straight into Cirque.
Ben is the aerial strap specialist for the Cirque Du Soleil show Luzia, playing in Seattle through May 21. (Check out Ben's work in the show, here: http://cirk.me/LUZIAself) After the performance ends, he'll travel up to the Old Garden Auditorium to visit his CircusWest roots. And, happily, to teach us new tricks! We're hosting an Aerial Strap workshop with Ben on Sat, May 27. From 6:00-8:00pm, learn strap techniques from one of the top aerialists in the country—on his own turf. Back at home.