When:
November 4, 2018 @ 2:00 pm – November 5, 2018 @ 3:30 am
2018-11-04T14:00:00-08:00
2018-11-05T03:30:00-08:00
Where:
Chilliwack Arts and Cultural Centre
9201 Corbould St
Chilliwack, BC V2P 1T9
Canada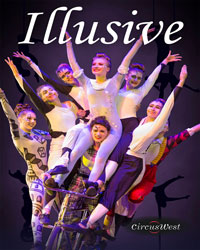 Don't miss the chance to watch British Columbia's top young circus talents as they weave a fantastic tale told through acrobatics, aerials, dance and other contemporary circus disciplines. Illusive – A Circus of Possibilities shows where the world is turned inside out, and challenges all to create new paths and solve problems through circus collaboration to escape. Follow the CircusWest citizens as they fight the laws of physics and gravity employing geometry and logic to journey towards their destiny. Trailblazing young circus performers will bring optical illusions to life with amazing acts of acrobatics, aerials, and circus virtuosity. Dream Big with CircusWest!