Dear world,
Well, it's that time again—the air is getting colder, the rain is falling and the CirKids are getting ready for the Winter Walkabout.
In December, over the span of one weekend, each CirKids class from Lions up to Ensemble will show their friends and family what they've been working on for the last 4 months. It's a fun, pre-winter-break celebration—plus, this is when the CirKids get their CircusWest t-shirt! CIRCUS SWAG.
The schedule is a bit different for the Winter Walkabout weekend (Saturday December 15 and Sunday December 16, this year). Please find a copy of it, below. You can also find it posted around the CircusWest building, and in the November (and December) newsletter. Students need to arrive for the call time listed, parents (and friends) should arrive a bit before the show time listed. (We suggest 15-20 minutes before).
Please note, Cubs will do their own little walkabout during their last class before the break. Parents, come watch your little one(s) circus it up!
Now, speaking of swag, we'll have items from our store for sale that weekend (as we do throughout the year): juggling balls, diabolos, flower sticks, clown noses, etc. All awesome stocking stuffers—as is a gift certificate from CircusWest! These can go up to any price, and cover things such as sessional classes, store items and private lessons. What a great way to give the gift of circus!
On that note, if you want to give the gift of giving to circus, consider donating to CircusWest. To donate, please visit https://www.circuswest.com/about-us/support-us/.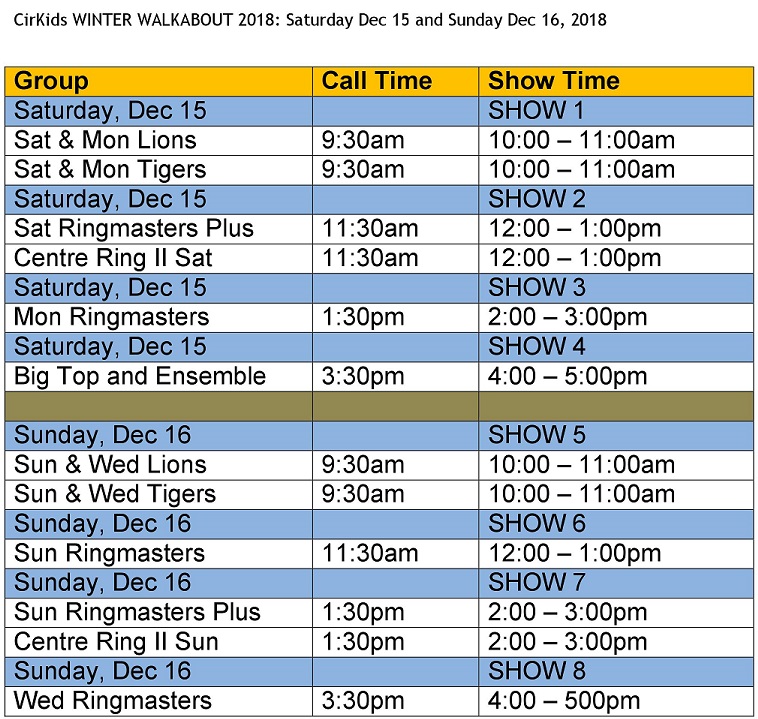 Thanks!
Love,
CircusWest